Last updated: October 30, 2023
Multiuser accounts allow organizations to better manage employee access to the organization's digital signs. With multiuser accounts, organizations can:
Ensure that new employees do not accidentally delete the organization's account.
Grant billing access to a bookkeeper or accounting department.
Have seamless employee transitions and quickly remove access for terminated employees.
Improve security by minimizing password sharing.
Setting up multiuser accounts with Screenly is easy. To get started with multiuser accounts, follow the steps below:
Log in to your online Screenly account.
Access the dropdown menu under your account email on the top right of the screen and click Settings.
In the new page that loads, click the "Team" tab on the left side of the screen, and click "New Member".
Next, add the email of your team member in the Email Address input field.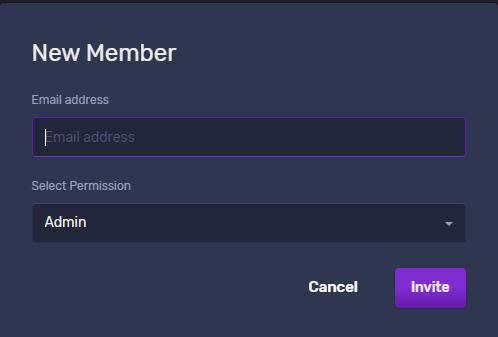 Next, select the permission level that you would like to grant your team member. Admin users have full control over your Screenly account. Billing users can change billing information and access the account's payment history. User accounts can change content, playlists, and screens, but they cannot delete the organization's account or access billing information.
After you enter your team member's email address and select their role, click the "Invite" button.
The team member will then receive an email from Screenly with a link to set his password.
If you ever wish to remove a team member from your organization, click the Remove button on the right side of the team member's listing. You must have Admin account access to remove team members.
That's all for now. Let us know if you have any questions on multiuser accounts, user permission levels, or anything else regarding implementing Screenly at your organization. We're here to help!