(You can find more video tutorials here.)
We think our playlist editor is one of the most sophisticated playlist editors in the digital signage industry. Unlike most companies behind playlist editors with advanced features, we really focus on simplification. Our goal is to be able to enable advanced scheduling without making simple scheduling more complicated.
We came up with a rule-based editor. Take a look at the following screenshot: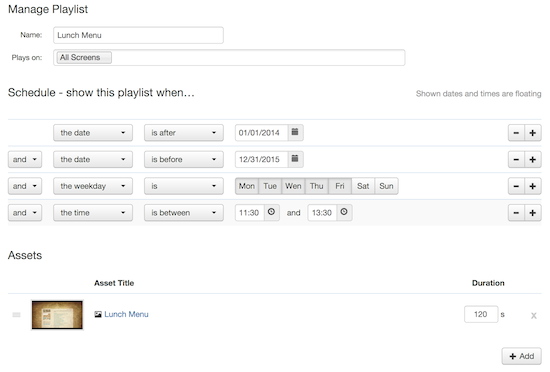 What you can see here is a typical lunch menu, which is something for which we have had numerous requests. In addition to the regular start date and end date, you will also notice that we have specified the following:
Only play on weekdays (Mon-Fri)
Only play between 11:30 - 13:30
Using this new rules-based playlist editor, you can create very precise schedules by combining conditions with AND and OR. This rules-based editor enables all your advanced scheduling needs-while still being easy to understand (as it almost reads like a normal sentence).
Another important note about the new playlist editor is that start and end dates are now optional. This is very useful if you want to create a custom permanent playlist, such as a lunch menu.
With the introduction of this new playlist editor, we also made some changes to the way we display the scheduled assets for a given node. Since playlists might turn on and off frequently, just listing all assets as they come and go would be repetitive.

Instead, we now give you a concise overview of which assets are active in the screen in the new Current Playlist section. In this section, each asset is listed only once even if it repeats multiple times.
Please note that just because an asset is listed here it does not mean that it is showing on the screen at the current time. That is dictated by the playlist itself.