A "virtual screen" uses a web browser to display content instead of a Screenly Player. Users can display a virtual screen on any device that supports a web browser, including laptops, monitors, smart TVs, smartphones, and tablets.
We launched the virtual screen feature so that users can quickly and easily show content without having to source new hardware.
Benefits of a virtual screen:
Users do not need to buy hardware to display content.

Users can display content on any device that can support a web browser.

Users can display content immediately after signing up for a free trial.

Users can share links to each virtual screen with team members and demonstrate the value of digital signs to company stakeholders.
Limitations of a virtual screen:
Virtual screens cannot render content from third-party websites.

Virtual screens do not support content transitions.

Virtual screens do not support content caching and do not work offline.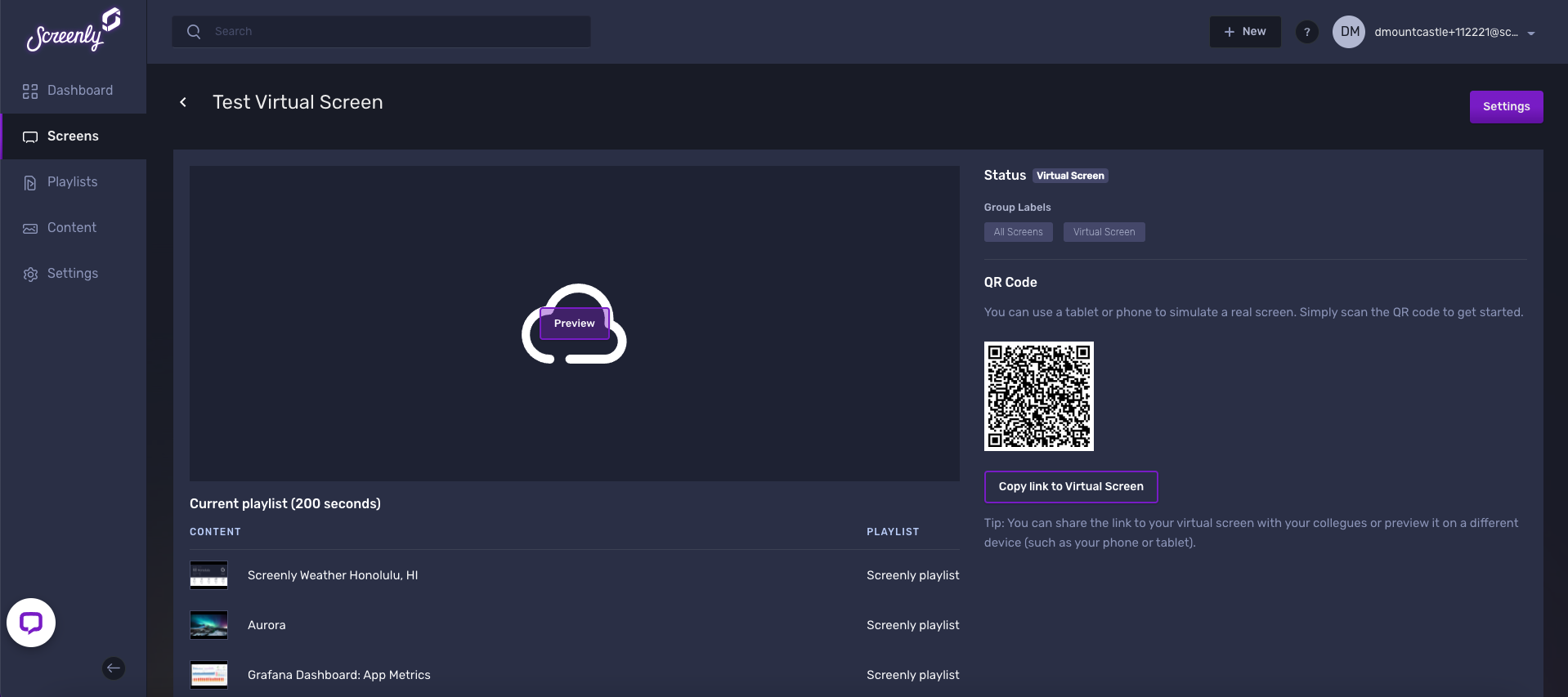 To get started with your first Screenly virtual screen, follow the steps below:
Start a Screenly free trial or log in to your existing Screenly account.

Click the "Screens" tab on the left side of the screen.

Click the "+ New Screen" button on the top right.

In the drop-down menu, click "Virtual."

Enter a name for your virtual screen in the popup modal and click the "Create" button on the bottom right.

That's it! You now have your first virtual screen.
To view and share your virtual screen, you have a few options:
Click the "Preview" button on the left-hand side of the screen. This button will open the virtual screen on a new tab on your existing web browser.

Scan the QR code on the right side of the screen. Scanning the QR code allows users to view the virtual screen on their smartphone or tablet.

Click the "Copy link to Virtual Screen" button. The virtual screen link is then in the user's clipboard, and the user can paste this link into an email or company chat (Slack, etc.) window. Coworkers can then view the virtual screen on their own devices.
Changing content on a virtual screen works the same way as changing content on a screen powered by a Screenly Player. To change content on your virtual screen, create a playlist with your desired content. Next, assign that playlist to your virtual screen.
If you have any questions about setting up or managing a virtual screen, do not hesitate to reach out. We are here to help!